Sanya is the southernmost city on Hainan Island which is also an international tourist city, with the characteristic of tropical seashore scenic. Sanya is a coastal city of China and one of the best air quality city in China. Sanya is also the most long-lived area (the average life expectancy is 80 years old). Sanya's nickname is "Lucheng", also known as "the Oriental Hawaii". Sanya is the foremost of China's four famous tourist city-Sanya, Weihai, Hangzhou and Xiamen, which has the most beautiful coastal scenery island.
Tianya Haijiao  
Tianya Haijiao, a romantic and beautiful scenic spot, lies to the west of Sanya City, Hainan Province. It receives many visitors from home and abroad every year since its open in 1988. It also attracts thousands of young lovers from every corner of the world to hold their wedding ceremonies here. Tianya Haijiao means 'the furthermost part of the sky and the sea' in Chinese, suggesting an unattainable place. In the past, Chinese people believed that the sky was square and the earth was round. Therefore there was definitely a furthermost part of the sky and the earth. Hainan Province, the southernmost part of China, was believed to be the location of Tianya Haijiao. The Tianya Haijiao Scenic Spot sits on Maling Mountain facing the sea. Walking along the seashore, you will see a stone carved with four characters Nan Tian Yi Zhu, which means 'a pillar standing in the southern part of the sky' in Chinese.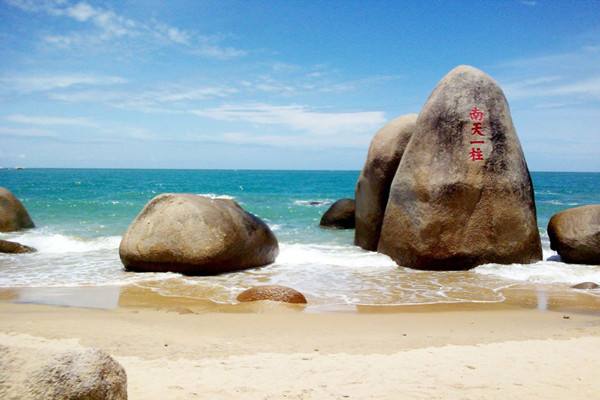 Asian Dragon Bay (Yalong Bay)
Asian Dragon Bay (Yalong Bay) boasts unparalleled beauty. The 7.5-kilometer (4.7- mile) long, crescent-shaped bay with an area of 18.6 square kilometers (about 7.2 square miles) is one of the famous scenic spots in Hainan Province. With the average temperature a pleasant 25.5C all year-round, Asian Dragon Bay is situated in the southernmost part of Hainan Province, 25 kilometers (about 15.5 miles) away from the tropical seaside tourist city, Sanya. The scenery is amazing, with endless rolling hills, serene gulfs, clear blue sea and silvery sand beaches--three times as long as any in Hawaii. Home to several well-preserved coral reefs with tropical fish of varied kinds, colors and shapes, the ocean here is crystal clear, allowing visitors to view underwater sights up to 10 meters (33 feet) deep from the surface. 

Hainan Yanoda Rainforest Cultural Tourism Zone
Hainan Yanoda Rainforest Cultural Tourism Zone is a rainforest in the Hainan province in China. The rainforest is a major tourist attraction (as Yanoda Rainforest Cultural Tourism Zone) and is located near the town Sanya. The Chinese government plans to invest 3.9 billion yuan into the park area. 45 km2 of the forest are reserved for the Cultural Tourist Zone, the whole area of protected forest is 123 km2. In 2012, the Tourist Zone was rated a AAAAA-scenic spot. "Yanoda", is an onomatopoeia for one, two, three in Hainan dialect. Here it has its new meaning when dividing it into three parts: "ya" means innovation; "no" represents promise; and "da" indicates practice. At the same time, "yanoda", delivers the expression of welcome and greeting, referring to friendship and best wishes.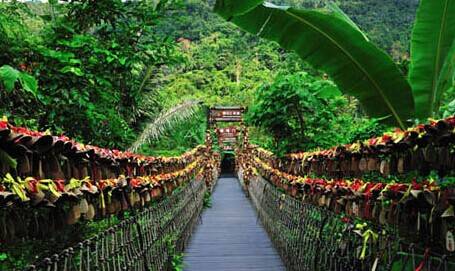 Nanshan Temple
Nanshan Temple is a Buddhist temple located in Sanya, Hainan province, China. The temple's name originates from a popular Buddhist expression "Fu ru dong hai, shou bi nan shan", which means "Good fortune is much as the East Sea; longevity is high as Nanshan". Nestling at the foot of Nanshan Mountain, an auspicious region famous for Chinese Buddhist culture with emphasis on longevity-happiness, Nanshan Temple was completed on 12 April, 1998, the 2,000th anniversary year of Buddhism coming to China.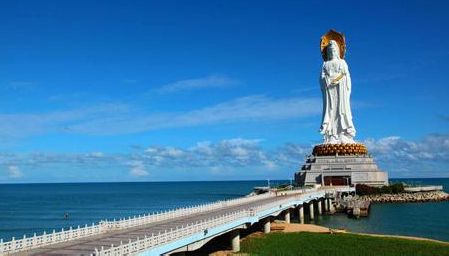 Sanya Duty-free Shop
Duty Free shopping is a great way for travelers to purchase gifts and last minute travel needs prior to leaving Sanya. Sanya Duty-free Shop opened on September 1, 2009. The 7000-squrare-meter store is located at 19 Yuya Street, Xiayangtian, Sanya. The transportation to and from the shop is easy and convenient. It takes only a 20-minute-drive to the airport and Yalong Bay from the Duty-free Shop. Sanya Duty-free Shop offer travelers currency exchange services and premium merchandise, including liquor, beer, and tobacco, at great prices.